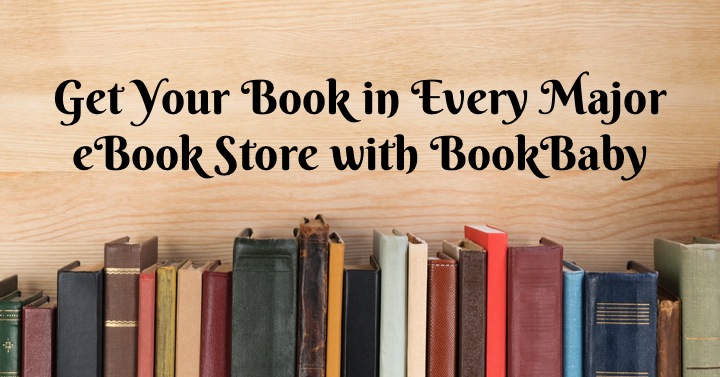 Bookbaby is an e-book distributor that is a one-stop shop for all the big online booksellers like Amazon, Apple, Barnes and Noble, and Sony and well as other, not-so-big online booksellers like Scribd, Kobo, and Gardners. They also distribute to over 170 countries, all from a single upload of your electronic book files, using a single Bowker's purchased ISBN. This is why I chose Bookbaby to convert and distribute my young adult novel, Dhampyr Heritage.
If I had chosen to provide each of these booksellers a copy of my book individually, each would have required its own ISBN.  And since I purchased them at a pretty hefty fee at Bowkers (a little over $500 for 100 ISBNs), it was very cost-effective to use a single distributor.  There are now more cost-effective ways to purchase ISBNs (Kindle Direct will even let you use your own imprint with an Amazon-owned ISBN).  And you can decrease your per-ISBN price at Bowkers by buying in bulk, but for the self-publisher, this isn't always feasible.
For the $149 fee (now $199),  Bookbaby created the e-book files from my Word file.  If you know nothing about creating e-book files, and require someone to do the coding for you, this makes Bookbaby even more cost effective.  Paying someone to do the conversion alone can easily cost you $100.
For the $149 fee plus $19 per year to keep the title active, the company converted my Word file to the different e-book coding languages (the Kindle takes a different language than the Nook), offered me an electronic "galley" to check, and distributed the title.
I provided my own cover page, since my daughter is an artist with the tools to do it, but for an additional fee, comparable in price to other such sites, you can get a professionally designed cover ($149 for a basic cover; $279 for a deluxe).  I can't comment on their cover design, as I haven't used it, but judging by price alone, it is a good deal.  Similar services at other companies and from freelancers can be well over $300.
Having also published an e-book using Kindle Direct, I would like to address a couple of drawbacks when using a distributor such as Bookbaby.  One is the inability to provide a sale of your e-book.  Though you can change your cover price by contacting the company, they have to submit the change to the booksellers, and so they cannot guarantee when the price will hit the web, and they would have to repeat the process to end the sale.  They only give you one free price change per year, so you need to be careful.  I did change the price on my e-book, and I can say they were very courteous, professional and responsive to my request.
Another issue is that there is a delay when distributing.  The book sellers give priority to posting books for sale via their own publishing channels.  This is understandable.  Bookbaby monitored the process and provided updates via my business account on their web page.  They even acted as a liaison with one bookseller that posted incorrect information about my book.
There is no exclusivity agreement with a single bookseller though, which to me, balances the negatives, and I get all the money from sales (Bookbaby doesn't take a cut) and I get a single royalty payment from Bookbaby, instead of one from each bookseller.  They also offer small-run print services and the books are of very good quality (similar to Createspace) and you don't need a different ISBN if you own the ISBN.  If you use their distribution service, you get a $100 discount on a print book package.  And it doesn't stop you from using Createspace (or Lulu or Ingram) for your print on demand printing.
I highly recommend self-publishing authors check out the many services that Bookbaby offers.  They now also offer editing services and a basic distribution-only package if you already have the necessary e-book files.  And for a discount on their e-book conversion and distribution package, check out using Pressbooks (www.pressbooks.com), a free document development and formatting service.
 Bio: Tara Moeller writes for teens as E. G. Gaddess and T. L. Frye.  Dhampyr Heritage (E. G. Gaddess) is available for Kindle, Nook, iPod/iPad and other e-readers; The Secret of Magik and Dragons (T. L. Frye) is available for Kindle.  For more information about these books and upcoming projects, check out Tara's web site, www.dreampunkpress.com.